K.S Terminals Inc. was established in the name of "Ken Shing industrial shop" in 1973. In the first stage, three brothers from the Cheng family started their business with only NT $ 3,000 (around 1 million rupiah) and 18 m2 workshop. At the outset, the biggest inflation period in Taiwan was truly a difficult challenge. But the three brothers remained consistent, upholding an honest philosophy, working together to ensure the best quality, continuing to research & innovate, with the spirit of hard work, economical, resilient & unconditionally advancing the company until they finally succeeded in the field of Taiwan's electric terminals.

Looking back over the past 34 years, all KST members hold strong 5 main philosophies: honesty, unity, quality, research and hard work in building rationalization, standardization, automation and quality improvement in all stages. Implement "Fully automatic AS / RS stocking system", integrated with the production process and MIS system and improve ERP & EIP systems to achieve faster and more flexible customer service; Also continue to strengthen R&D, continue investment and innovation to continue to advance the company, building KST to become the center of world electrical terminal production, 4C professionals, optics, communication terminals and precision connector manufacturers.
1973 – Establishment of Ken Shing Industry.
1976 – Successfully developed terminal type coil manufacturing techniques.
1978 – Changed Ken Shing Industri's name to K.S. Terminals Inc.
1981 – Started production of non-insulated and pre-insulated copper wire terminals.
1983 – Developed a special automatic assembly machine.
1984 – Started production of tape on reel pre-insulated terminals and crimping machines.
1985 – Expanding factory land area of ​​900 m2.
1986 – Set up K.S. Terminals Inc., the second factory, expanded 1,000 m2 of land, and developed a new punching technique.
1987-1993 – Continue to expand 2,000 m2 of factory land, set up warehouses for finished and semi-finished products, and implement a total quality management system.
1994 – Implemented the first AS / RS automatic stocking system integrated with the MIS system, as well as implementing an ISO quality system.
1995 – Started producing European and German standard terminals, ISO 9002 Approval in December of the same year.
1996 – In January officially obtained ISO 9002 certification from SGS and bought 20,000 m2 of land in the Chang Pin industrial area.
1997 – Started construction of a 20,000 m2 new factory in the Chang Pin industrial area.
Implement rationalization, standardization, automation and improve quality to meet JIS certification requirements.
1998 – Implemented 6 sets of AS / RS automatic stocking systems and completed factory construction.
2000 – The new factory was completed and relocated in July. Inaugurated the start of the first business unit in the Chang Pin industrial area and inaugurated the second factory as the second business unit.
2001 – In January officially obtained the JIS-mark certification (Japanese industrial factory standard) from MITI Japan.
Established a third business unit and metal coating processing plant.
Add new electronic ceramic products sector, ceramic lamp socket and actively develop and market 3C components & telecommunication optics.
2002 – Updated ISO 9001 certification (version 2000).
On February 19, officially went public on the Taiwan stock exchange.
2003 – In November officially obtained QS 9000 certification.
2004 – Updating and upgrading ERP computer systems. In December officially obtained ISO 14001 certification.
2005 – In April with "Taiwan Green Point Enterprises Co., Ltd." established a joint venture company "Green Point Precision Components Co., Ltd." In July inaugurated the Taipei business unit, developing an IT / IA / IO connector.
2006 – Application of ISO TS16949 in July and obtained official certification in December.
2007 – In May founded the joint venture company NT.KST.TECHNOLOGY (SUZHOU) CO., LTD.
2008 – In September officially obtained ISO / ICE 17025 laboratory certification.
2010 – In January officially obtained the IECQ QC080000 HSPM System (Hazardous Substances Process Management) certification. In February, it was formally obtained TIPS (Taiwan Intellectual Property Management System) certification.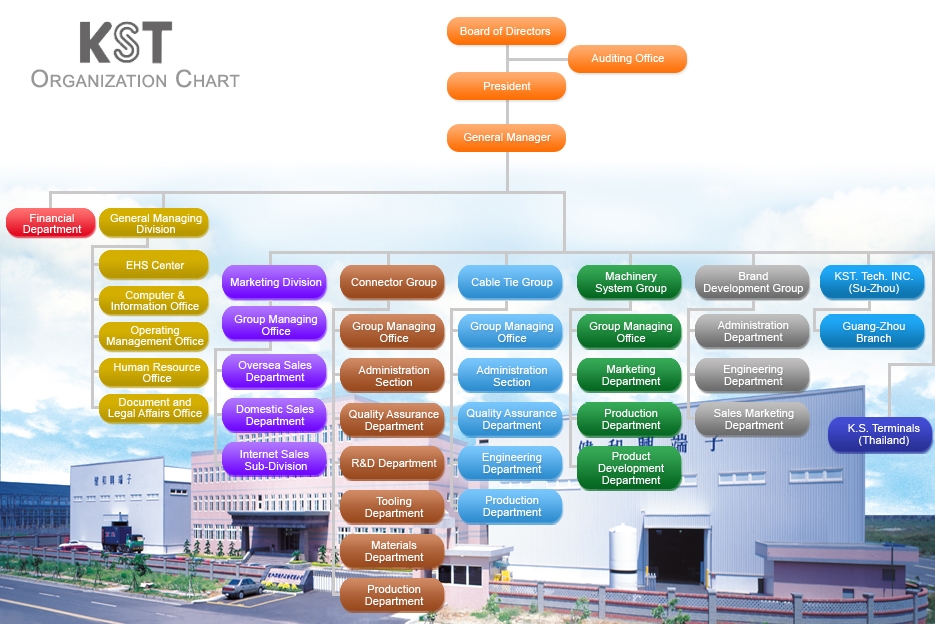 KST is not only providing good services to meet domestic customer's demand, but also aggressively to market, and open up overseas markets, to disperse the markets and risks, presently selling to more than 60 countries all over the world, covering electrical, automotive, electronic, house appiance, wire harnessing, OEM, ODM…etc. all different markets, providing widely types and series, intensively sizes and specifications, which is more than 10,000 items, meeting customer's requirements at reasonable cost, strengthen all product quality cetification, presently over 8,000 items are UL, C-UL approved.
Besides, aggressively developing ultra-precision electronic ceramic, and the markets of precision ceramic jig for semi-conductor's production process, and 4C optical telecommunication part & components. Continue to develop markets、set up and strengthen sales channel over the Golden-BRIC and Asian-Tiger…etc. new developing countries and markets.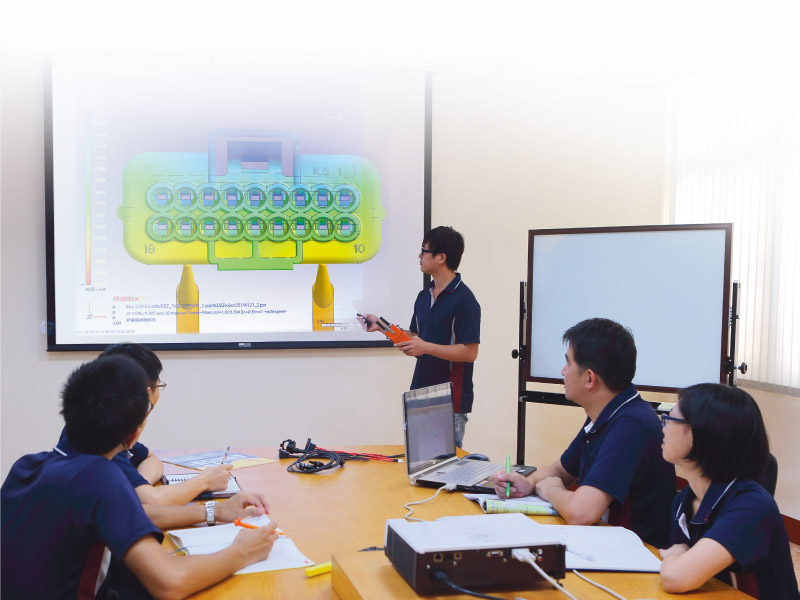 All KST members have continued with their biggest efforts since many years, expecting to make KST to be an internationalized company. Facing the information explosion time, strong and big enterprises stand everywhere world wide, acquisition, merging, and strategic alliance is so popular in nowadays, it makes the bigger biggest and stronger strongest.
Only continuously to improve company's constitution, raise up managing efficiency quickly and effectively; furthermore to strengthen R&D capability to meet customer's requirements, make all customers to treat KST as their own virtual factory; adequately, completely and quickly providing customers speedy service in all phases. Let KST become the terminal manufacturing center of the world, accomplish the final of 「Running enterprise Forever」 !!
To meet and greet 21st century, coming to an epoch of optical communication, KST has devoted into R&D and manufacturing precision ceramic, semiconductor, optical communication connector and the related components. Presently, KST has controlled the precision processing technique of 4C Titianium thin wall products, tooling design and manufacturing capability, even more aggressively developing 4C's fine pitch precision connectors, and automotive, white goods strip terminals & connectors, expected to become an international level professional manufacture.
If you have any questions, please feel free to contact us.